Global Library
There are 1,638 ebooks with this criteria in the database
Taras Bulba
Gogol, Nikolai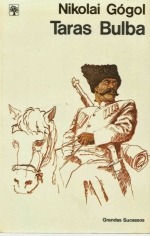 ePub
iSilo
Language: English | Category: Short Stories (Historical) | Audio Book: Not Available
Taras Bulba (Russian: Тара́с Бу́льба; Ukrainian: Тара́с Бу́льба, Tarás Búl'ba) is a romanticized historical short story by Nikolai Gogol. It describes the life of an old Zaporozhian Cossack, Taras Bulba, and his two sons, Andriy and Ostap. The sons study at the Kiev Academy and then return home, whereupon the three men set out on a journey to Zaporizhian Sich located in Southern Ukraine, where they join other Cossacks and go to war against Poland.The main character іs based on several historical personalities, and other characters are not аs exaggerated or grotesque as was common in Gogol's later fiction. The story can be understood in the context of the Romantic nationalism movement in literature, which developed around a historical ethnic culture which meets the Romantic ideal.
More information about
Gogol, Nikolai
and
Taras Bulba
is available in:
Delibris.org is an initiative supported by the Midwest Theological Forum (MTF) that springs from experiences of people that share a passion for reading and that take interest in known, from a catholic perspective, the content of books that have caught their attention.
Back
Others books by Gogol, Nikolai
There are
9 ebooks
by this Author
Gogol, Nikolai - Almas muertas - Language: Spanish, Novel - Format: ePub
Creador junto con Aleksandr Pushkin de la gran prosa rusa del siglo XIX que habría de prolongarse en Dostoievski, Tolstói y Chéjov, Nikolái Gógol plasmó en «Almas muertas» la misma visión ácida y satírica de Rusia que impregna sus (More)
Gogol, Nikolai - Taras Bulba - Language: English, Short Stories - Format: ePub, iSilo
Taras Bulba (Russian: Тара́с Бу́льба; Ukrainian: Тара́с Бу́льба, Tarás Búl'ba) is a romanticized historical short story by Nikolai Gogol. It describes the life of an old Zaporozhian Cossack, Taras Bulba, and his two sons, Andriy (More)
| | |
| --- | --- |
| | Gogol, Nikolai - I racconti di Pietroburgo - Language: Italian, Short Stories - Format: iSilo |
| | |
| --- | --- |
| | Gogol, Nikolai - La nariz - Language: Spanish, Short Stories - Format: ePub |
Gogol, Nikolai - Taras Bulba - Language: Spanish, Short Stories - Format: iSilo
Tarás Bulba (en ucraniano: Тара́с Бу́льба) es una relato histórico y romántico de Nikolái Gógol que transcurre durante el siglo XVI. Fue publicada por primera vez en 1835, dentro de la recopilación Mírgorod, siendo la segunda y (More)
Gogol, Nikolai - Taras Bulba - Language: Italian, Short Stories - Format: ePub
Ambientato nell'Ucraina del XV secolo, devastata dai tatari, governata dai polacchi e messa a ferro e fuoco dalle scorribande di nomadi cosacchi, tale racconto narra le imprese di uno dei condottieri di quest'ultimi, Taras (More)
Gogol, Nikolai - I racconti degli Arabeschi - Language: Italian, Short Stories - Format: ePub
Un giovanotto ventiseienne non bello, bussino di statura, dalla passione maniacale per la cura dell'aspetto e dell'abbigliamento, con una grande opinione di sé, vezzeggiato e protetto da letterati famosi quali Puškin e Žukovskij, (More)
Gogol, Nikolai - Il naso e il cappotto - Language: Italian, Short Stories - Format: ePub
Gogol' è considerato uno dei grandi della letteratura russa. Già maestro del Realismo, si distinse per la grande capacità di raffigurare situazioni satirico-grottesche sullo sfondo di una desolante mediocrità umana, o di quella (More)
Gogol, Nikolai - Racconti di Pietroburgo - Language: Italian, Short Stories - Format: ePub
I Racconti di Pietroburgo o pietroburghesi (Петербургские повести) sono una raccolta di racconti di Gogol' ambientati a Pietroburgo. La raccolta venne realizzata dopo la morte di Gogol', unendo tre racconti precedentemente (More)