Global Library
There are 1,638 ebooks with this criteria in the database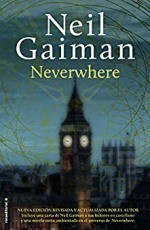 ePub
Language: Spanish | Category: Novel (Fantasy & Sc. Fic.) | Audio Book: Not Available
Una historia mágica y maravillosa, repleta tanto de sueños como de pesadillas. Una de las historias más vendidas y mejor valoradas de Neil Gaiman.
En el subsuelo de Londres, como debajo de cada gran ciudad, existe un mundo desconocido e invisible, plagado de extraños seres, en el que sobrevivir depende de abrir las puertas adecuadas… Hay mundos bajo tus pies, espías bajo las escaleras y formas que esperan al otro lado de los portales, que sólo has atisbado en tus sueños.
Tras leer Neverwhere, nunca volverás a pasar por los sombríos lugares del mundo moderno con la misma confianza infantil.
Neverwhere ha sido elegida como una de las 100 mejores novelas de ciencia y ficción y fantasía de todos los tiempos.
Para obtener más información sobre
Gaiman, Neil
y
Neverwhere
se puede consultar:
Delibris.org is an initiative supported by the Midwest Theological Forum (MTF) that springs from experiences of people that share a passion for reading and that take interest in known, from a catholic perspective, the content of books that have caught their attention.
Back
Others books by Gaiman, Neil
There are
5 ebooks
by this Author
Gaiman, Neil - Material sensible - Language: Spanish, Short Stories - Format: ePub
Una antología que concentra todo el potencial fantasioso y onírico de Gaiman: historias de terror y de fantasmas, ficción especulativa y cuentos de hadas, fábulas perversas y versos sorprendentes. Con una enorme legión de fieles (More)
Gaiman, Neil - Neverwhere - Language: English, Novel - Format: ePub
Neverwhere is the stunningly original first novel from Neil Gaiman, the bestselling and prizewinning author of The Ocean at the End of the Lane and American Gods. Wired called it 'the sort of book Terry Pratchett might produce if (More)
Gaiman, Neil - Stardust - Language: Spanish, Novel - Format: ePub
Un encantador cuento de hadas del gran maestro Neil Gaiman, llena de aventuras ineseperadas, amor verdadero en un mundo repleto de magia. El joven Tristan Thorn está dispuesto a hacer cualquier cosa para conquistar el frío corazón (More)
Gaiman, Neil - El libro del cementerio - Language: Spanish, Novel - Format: ePub
Escuchad esta trágica historia: una familia que duerme, un asesino sin compasión y una criatura aventurera, un huérfano que escapa de la muerte. ¿O no? El pequeño escapa del peligro y consigue gatear hasta lo más alto de la (More)
Gaiman, Neil - Neverwhere - Language: Spanish, Novel - Format: ePub
Una historia mágica y maravillosa, repleta tanto de sueños como de pesadillas. Una de las historias más vendidas y mejor valoradas de Neil Gaiman. En el subsuelo de Londres, como debajo de cada gran ciudad, existe un mundo (More)