Global Library
There are 1,638 ebooks with this criteria in the database
Ética actualizada
Ayllón, José Ramón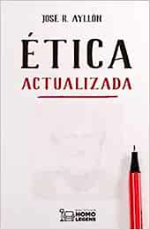 ePub
Language: Spanish | Category: Essay & Philosophy | Audio Book: Not Available
La conducta ética se despliega en los más diversos aspectos de la vida, entre personas de toda edad y condición. Eso explica que estas páginas aborden cuestiones fundamentales de antropología y psicología, de política y Derecho, de historia y filosofía, con un enriquecedor enfoque interdisciplinar.Fruto de una larga trayectoria docente, Ética actualizada se publica veinte años después de Ética razonada, como una puesta a punto pedida por la modernidad líquida del siglo XXI: un mundo de cambios vertiginosos y profundos, que reta a todo el que quiera saber y explicar en qué consiste obrar bien.
Para obtener más información sobre
Ayllón, José Ramón
y
Ética actualizada
se puede consultar:
Delibris.org is an initiative supported by the Midwest Theological Forum (MTF) that springs from experiences of people that share a passion for reading and that take interest in known, from a catholic perspective, the content of books that have caught their attention.
Back
Others books by Ayllón, José Ramón
There are
4 ebooks
by this Author
Ayllón, José Ramón - Ética actualizada - Language: Spanish, Essay & Philosophy - Format: ePub
La conducta ética se despliega en los más diversos aspectos de la vida, entre personas de toda edad y condición. Eso explica que estas páginas aborden cuestiones fundamentales de antropología y psicología, de política y Derecho, (More)
Ayllón, José Ramón - ¿Qué es la verdad?. Introdución a la filosofía - Language: Spanish, Essay & Philosophy - Format: ePub
Si abres estas páginas podrás disfrutar de una introducción a la filosofía especialmente seductora. José Ramón Ayllón vuelca en este libro su rica experiencia como profesor en Secundaria y en la Universidad de Navarra. Retrocedo (More)
Ayllón, José Ramón - Historia de la filosofía - Language: Spanish, Essay & Philosophy - Format: ePub
La historia de la filosofía se nos presenta, a menudo, como una sucesión confusa de teoría y autores. Este libro aporta un esquema expositivo muy claro, que hace comprensibles a los filósofos y a sus épocas respectivas. Sus (More)
Ayllón, José Ramón - Antroplología filosófica - Language: Spanish, Essay & Philosophy - Format: ePub
Antropología filosófica es un manual en el que el autor pretende dar un paseo ameno y didáctico en torno a las dimensiones humanas desde un punto de vista antropológico y filosófico. El hombre como ser vivo y como animal (More)