Global Library
There are 1,638 ebooks with this criteria in the database
Mis años con Juan Pablo II
Navarro Valls, Joaquín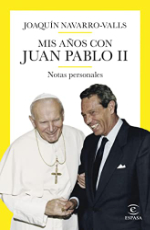 ePub
Language: Spanish | Category: Essay & Philosophy | Audio Book: Not Available
«¡Cuidado con lo que decís y con los comentarios que hacéis! Dentro de unos años lo veréis todo publicado en un libro del doctor Navarro-Valls».
En el cuarenta y cinco aniversario de la elección de Juan Pablo II, esta obra recoge las notas personales que Joaquín Navarro-Valls tomó durante sus años como portavoz del Papa. El libro ofrece una mirada inédita de la trastienda del trabajo diario de la Santa Sede, desvela algunos de los grandes problemas de la humanidad que tanto preocupaban al Santo Padre y, sobre todo, nos regala muchos detalles de su vida cotidiana y de situaciones familiares. Particularmente emotivas son las descripciones de los periodos de descanso veraniego, ilustrados con fotografías realizadas por el propio autor, que ven la luz ahora por primera vez.Navarro-Valls deseaba que el libro se publicara tiempo después de su muerte, «en caso de que interese a alguien». En realidad, la obra captura el interés del lector desde el primer momento y muestra cómo el Papa, para ejercer su liderazgo, no contaba con otros instrumentos humanos más que la simple persuasión. Navarro-Valls estaba convencido de que su principal objetivo era apoyar al Papa, aun sabiendo que Juan Pablo II no necesitaba de esa ayuda porque era un comunicador tan poderoso que «se salía de la pantalla».
Para obtener más información sobre
Navarro Valls, Joaquín
y
Mis años con Juan Pablo II
se puede consultar:
Delibris.org is an initiative supported by the Midwest Theological Forum (MTF) that springs from experiences of people that share a passion for reading and that take interest in known, from a catholic perspective, the content of books that have caught their attention.
Back
Others books by Navarro Valls, Joaquín
There are
1 ebooks
by this Author
Navarro Valls, Joaquín - Mis años con Juan Pablo II - Language: Spanish, Essay & Philosophy - Format: ePub
«¡Cuidado con lo que decís y con los comentarios que hacéis! Dentro de unos años lo veréis todo publicado en un libro del doctor Navarro-Valls». En el cuarenta y cinco aniversario de la elección de Juan Pablo II, esta obra recoge (More)