Global Library
There are 1,638 ebooks with this criteria in the database
Filipo y Alejandro. Reyes y conquistadores
Goldsworthy, Adrian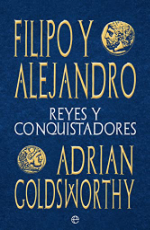 ePub
Language: Spanish | Category: History & Biography | Audio Book: Not Available
Al final de sus días, Alejandro Magno había redibujado el mapa del mundo antiguo creando un imperio que se extendía desde el mar Adriático hasta el subcontinente indio. Sin embargo, su éxito no fue solo fruto de su propio genio y de su gran ímpetu, sino que se cimentó en décadas de esfuerzo y guerras llevadas a cabo por su padre, Filipo II de Macedonia.
La historia ha retratado al progenitor de Alejandro como un anciano de un solo ojo cuyo asesinato permitió a su hijo acceder al poder, pero él representaba algo mucho más importante. A través de décadas de luchas y una inteligente y sutil diplomacia, Filipo logró unificar su país y conquistar Grecia. A su muerte, Alejandro heredó todo en el momento perfecto para lograr una gloria aún mayor, y así convertirse en uno de los grandes personajes de todos los tiempos.
Adrian Goldsworthy, uno de los más reconocidos historiadores del periodo, describe con su habitual maestría cómo Filipo y Alejando transformaron un reino débil del norte de Grecia en un imperio global para así, cambiar el curso de la historia para siempre.
Para obtener más información sobre
Goldsworthy, Adrian
y
Filipo y Alejandro. Reyes y conquistadores
se puede consultar:
Delibris.org is an initiative supported by the Midwest Theological Forum (MTF) that springs from experiences of people that share a passion for reading and that take interest in known, from a catholic perspective, the content of books that have caught their attention.
Back
Others books by Goldsworthy, Adrian
There are
1 ebooks
by this Author
Goldsworthy, Adrian - Filipo y Alejandro. Reyes y conquistadores - Language: Spanish, History & Biography - Format: ePub
Al final de sus días, Alejandro Magno había redibujado el mapa del mundo antiguo creando un imperio que se extendía desde el mar Adriático hasta el subcontinente indio. Sin embargo, su éxito no fue solo fruto de su propio genio y (More)