Global Library
There are 1,638 ebooks with this criteria in the database
Muerte de tinta (Mundo de tinta, 3)
Funke, Cornelia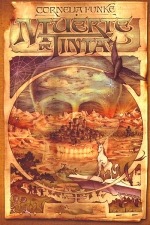 ePub
Language: Spanish | Category: Novel (Fantasy & Sc. Fic.) | Audio Book: Not Available
Después de Corazón de Tinta y Sangre de Tinta, en este fulminante final de la trilogía, hay sombras negras en Umbra…
Han pasado solamente pocas semanas desde que las Mujeres Blancas se llevaran consigo a Dedo Polvoriento. Meggie y sus padres están viviendo en una pacífica finca abandonada que les hace casi olvidar las pesadillas que pasaron en el Castillo de Noche, aunque cuando oscurece y Meggie mira impaciente por la ventana esperando a Farid escucha el grito de un grajo… y entonces su padre desaparece en el bosque.
Para obtener más información sobre
Funke, Cornelia
y
Muerte de tinta (Mundo de tinta, 3)
se puede consultar:
Delibris.org is an initiative supported by the Midwest Theological Forum (MTF) that springs from experiences of people that share a passion for reading and that take interest in known, from a catholic perspective, the content of books that have caught their attention.
Back
Others books by Funke, Cornelia
There are
5 ebooks
by this Author
Funke, Cornelia - El jinete del dragón - Language: Spanish, Novel - Format: ePub
La tierra de los dragones en Escocia ha sido amenazada por los humanos. Lung, un joven dragón, tendrá que buscar ayuda antes de volar hacia el Himalaya, donde según las leyendas se escondieron los últimos dragones. Acompañado de (More)
Funke, Cornelia - Dragon Rider - Language: English, Novel - Format: ePub
With a lonely boy named Ben on board, the brave young dragon Firedrake sets out on a magical journey to find the mythical place where silver dragons can live in peace forever. Flying over moonlit lands and sparkling seas, they (More)
Funke, Cornelia - Muerte de tinta (Mundo de tinta, 3) - Language: Spanish, Novel - Format: ePub
Después de Corazón de Tinta y Sangre de Tinta, en este fulminante final de la trilogía, hay sombras negras en Umbra… Han pasado solamente pocas semanas desde que las Mujeres Blancas se llevaran consigo a Dedo Polvoriento. Meggie y (More)
Funke, Cornelia - Sangre de tinta (Mundo de tinta, 2) - Language: Spanish, Novel - Format: ePub
La vida parece que vuelve a ser apacible en la casa de tía Elinor y en su fascinante biblioteca, o con el regreso de Resa, o con Mo (Lengua de Brujo) de nuevo encuadernando y «sanando» libros enfermos; pero el peligro vuelve a (More)
Funke, Cornelia - Corazón de tinta (Mundo de tinta, 1) - Language: Spanish, Novel - Format: ePub
Quiénes son de verdad Dedo Polvoriento, Capricornio o Lengua de Brujo lo sabrá la joven Meggie por las respuestas que encuentre en un viejo pueblo de las montañas de Liguria… y también en un libro. Cuando Mo, el padre de Meggie, (More)