Global Library
There are 1,638 ebooks with this criteria in the database
Endurance. La prisión blanca
Lansing, Alfred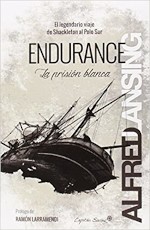 ePub
Language: Spanish | Category: History & Biography | Audio Book: Not Available
En diciembre de 1914, sir Ernest Shackleton y una tripulación de veintisiete hombres zarpó de Georgia del Sur a bordo del Endurance rumbo al Polo Sur, con el objetivo de cruzar la Antártida, el último continente inexplorado, por tierra. Un mes más tarde, con temperaturas de 35 grados bajo cero, el barco encallaba en el hielo del mar de Weddell, en las afueras del Círculo Polar Antártico. Más de un año después, y todavía a medio continente de distancia de la base deseada, la nave estuvo amarrada al hielo flotando hacia al noroeste, antes de ser finalmente aplastada por la fuerza del hielo.
Durante ese tiempo Shackleton y su tripulación sobrevivieron a la deriva en una de las regiones más salvajes del mundo, antes de poder zarpar de nuevo en uno de los botes salvavidas. Pero apenas había comenzado el calvario, aún debían afrontar un viaje casi milagroso a través de más de 850 millas de mares pesados del Atlántico Sur, hacia el puesto de mando más cercano a la civilización. El relato de Alfred Lansing, escrupulosamente investigado y brillantemente narrado, es reconocido como el relato definitivo de la fatídica expedición.
Para obtener más información sobre
Lansing, Alfred
y
Endurance. La prisión blanca
se puede consultar:
Delibris.org is an initiative supported by the Midwest Theological Forum (MTF) that springs from experiences of people that share a passion for reading and that take interest in known, from a catholic perspective, the content of books that have caught their attention.
Back
Others books by Lansing, Alfred
There are
1 ebooks
by this Author
Lansing, Alfred - Endurance. La prisión blanca - Language: Spanish, History & Biography - Format: ePub
En diciembre de 1914, sir Ernest Shackleton y una tripulación de veintisiete hombres zarpó de Georgia del Sur a bordo del Endurance rumbo al Polo Sur, con el objetivo de cruzar la Antártida, el último continente inexplorado, por (More)