Global Library
There are 1,629 ebooks with this criteria in the database
La villa de las telas
Jacobs, Anne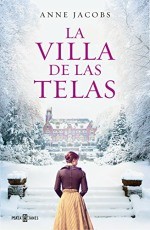 ePub
Language: Spanish | Category: Novel (Romance) | Audio Book: Not Available
Augsburgo, 1913. La joven Marie entra a trabajar en la cocina de la impresionante villa de los Melzer, una rica familia dedicada a la industria textil. Mientras Marie, una pobre chica proveniente de un orfanato, lucha por abrirse paso entre los criados, los Melzer esperan con ansia el comienzo de la nueva temporada invernal de baile, momento en el que se presentará en sociedad la bella Katharina. Solo Paul, el heredero, permanece ajeno al bullicio, pues prefiere su vida de estudiante en Múnich. Hasta que conoce a Marie…
Anne Jacobs. Nació en 1941 en la Baja Sajonia, vivió en Hannover durante 15 años y posteriormente se trasladó con su familia a Idstein. Inicialmente estudió música, ruso y francés y se dedicó durante un tiempo a la docencia como profesora de educación secundaria. Más tarde emprendió una carrera literaria como novelista.
Ha publicado algunas novelas con gran éxito de ventas, entre ellas Das Gustshaus (La villa de las telas) ambientada en los primeros años del siglo XX. Ha publicado alrededor de veinte novelas, algunas de ellas con pseudónimo.
Para obtener más información sobre
Jacobs, Anne
y
La villa de las telas
se puede consultar:
Delibris.org is an initiative supported by the Midwest Theological Forum (MTF) that springs from experiences of people that share a passion for reading and that take interest in known, from a catholic perspective, the content of books that have caught their attention.
Back
Others books by Jacobs, Anne
There are
1 ebooks
by this Author
Jacobs, Anne - La villa de las telas - Language: Spanish, Novel - Format: ePub
Augsburgo, 1913. La joven Marie entra a trabajar en la cocina de la impresionante villa de los Melzer, una rica familia dedicada a la industria textil. Mientras Marie, una pobre chica proveniente de un orfanato, lucha por abrirse (More)