Global Library
There are 1,638 ebooks with this criteria in the database
Il mistero di Sleepy Hollow e altri racconti
Irving, Washington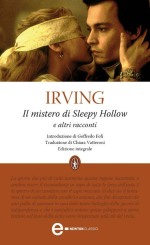 ePub
Language: Italian | Category: Short Stories (Fantasy & Sc. Fic.) | Audio Book: Not Available
Il mistero di Sleepy Hollow e altri racconti, opera di Washington Irving edita da Newton Compton. Il libro degli schizzi (The Sketch Book of Geoffrey Crayon, Gent., di cui è proposta la traduzione integrale) è considerato il capolavoro di Washington Irving. Tra le tante storie fantastiche raccolte nel volume ricordiamo quella di Rip Van Winkle e del suo misterioso e bizzarro viaggio nel tempo; de Lo sposo fantasma, con il suo sorprendente finale; ma soprattutto l'avventura mozzafiato che si svolge nella brumosa vallata di Sleepy Hollow, battuta da uno spettrale cavaliere senza testa in sella a un possente stallone nero. Ichabod Crane, uno strano maestro di scuola, dovrà vedersela con lui, perché il fantasma si frappone tra il giovane e la bellissima Katrina, di cui Ichabod è innamorato. Pur di conquistare l'amore della ragazza, il maestro (che nella famosa versione cinematografica ha il volto di Johnny Depp) andrà incontro ad avventure pericolose, avvincenti e, naturalmente, dense di mistero.
Washington Irving nacque a New York nel 1783. Avviato agli studi giuridici, si mostrò sempre insofferente alla rigidità dell'ambiente accademico preferendo, per la sua formazione, la lettura dei classici inglesi e l'amicizia di uomini di lettere e di teatro. Viaggiatore instancabile, colto e curioso, Irving visse a lungo in Spagna e in Inghilterra e proprio in Europa scrisse la sua opera più importante, The Sketch Book of Geoffrey Crayon, Gent., trasferendo i temi del folklore del vecchio continente nel nuovo mondo. L'opera lo consacrò come primo autore americano a essere annoverato tra i classici della lingua inglese. Morì il 28 novembre del 1859 nei pressi di Tarrytown, vale a dire nello stesso villaggio in cui è ambientato Il mistero di Sleepy Hollow.
Per ricevere più informazione di
Irving, Washington
e
Il mistero di Sleepy Hollow e altri racconti
può essere consultata:
Delibris.org is an initiative supported by the Midwest Theological Forum (MTF) that springs from experiences of people that share a passion for reading and that take interest in known, from a catholic perspective, the content of books that have caught their attention.
Back
Others books by Irving, Washington
There are
2 ebooks
by this Author
Irving, Washington - Il mistero di Sleepy Hollow e altri racconti - Language: Italian, Short Stories - Format: ePub
Il mistero di Sleepy Hollow e altri racconti, opera di Washington Irving edita da Newton Compton. Il libro degli schizzi (The Sketch Book of Geoffrey Crayon, Gent., di cui è proposta la traduzione integrale) è considerato il (More)
Irving, Washington - Cuentos de la Alhambra - Language: Spanish, Short Stories - Format: ePub
Esta original novela entremezcla una serie de narraciones o cuentos con el libro de viajes y el diario. El protagonista e hilo conductor es el propio autor, Washington Irving, que tras su llegada a España inicia un recorrido por (More)