Global Library
There are 1,638 ebooks with this criteria in the database
Historias de las ideas conemporaneas
Fazio Fernández, Mariano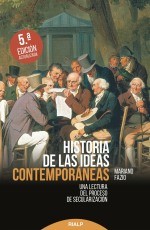 ePub
Language: Spanish | Category: History & Biography | Audio Book: Not Available
El hilo conductor de este recorrido por la historia contemporánea es el proceso de secularización, característico de nuestra cultura, tratado desde una visión cristiana del hombre y de la historia. Tras exponer las claves de la época moderna (siglos XVI-XVII), el autor analiza las principales ideologías contemporáneas -liberalismo, nacionalismo, marxismo, cientificismo- y subraya su papel de religiones sustitutivas. Una tercera parte trata la crisis de la cultura de la Modernidad en el siglo XX, y examina con detalle el nihilismo, la sociedad permisiva y los movimientos culturales de mayor actualidad: feminismo, ecologismo y los nuevos movimientos religiosos. Concluye con un profundo análisis de la relación entre la Iglesia Católica y el mundo contemporáneo.
Mariano Fazio (Buenos Aires, 1960) es sacerdote, historiador y filósofo, profesor de Historia de las Doctrinas Políticas en la Pontificia Universidad de la Santa Cruz, de la que ha sido Rector. Actualmente vive en Roma, donde trabaja como vicario general del Opus Dei. Entre sus libros destacan: Cristianos en la encrucijada; La América ingenua; El Papa Francisco, San Juan XIII, Seis grandes escritores rusos y El universo de Dickens.
Para obtener más información sobre
Fazio Fernández, Mariano
y
Historias de las ideas conemporaneas
se puede consultar:
Delibris.org is an initiative supported by the Midwest Theological Forum (MTF) that springs from experiences of people that share a passion for reading and that take interest in known, from a catholic perspective, the content of books that have caught their attention.
Back
Others books by Fazio Fernández, Mariano
There are
3 ebooks
by this Author
Fazio Fernández, Mariano - Historias de las ideas conemporaneas - Language: Spanish, History & Biography - Format: ePub
El hilo conductor de este recorrido por la historia contemporánea es el proceso de secularización, característico de nuestra cultura, tratado desde una visión cristiana del hombre y de la historia. Tras exponer las claves de la (More)
Fazio Fernández, Mariano - El Siglo de Oro español: de Garcilaso a Calderón - Language: Spanish, History & Biography - Format: ePub
¿Qué sucede en España entre 1492 y 1681 para que ese período sea denominado Siglo de Oro? Las fechas vienen determinadas por el final de la Reconquista y el descubrimiento del Nuevo Mundo, y por la muerte del último de una serie (More)
Fazio Fernández, Mariano - Last of the Romantics - Language: English, Spiritual - Format: ePub
"I love the freedom of others," said St. Josemaria, "yours, that of the person passing by right now on the street, because if I didn't love it, I couldn't defend mine. But that's not the main reason. The main reason is this: that (More)