Global Library
There are 1,629 ebooks with this criteria in the database
Atomic Habits. An Easy and Proven Way to Build Good Habits and Break Bad Ones
Clear, James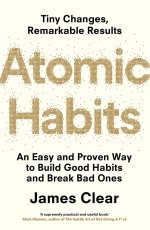 ePub
Language: English | Category: Self-Help | Audio Book: Not Available
Transform your life with tiny changes in behaviour, starting now.
People think that when you want to change your life, you need to think big. But world-renowned habits expert James Clear has discovered another way. He knows that real change comes from the compound effect of hundreds of small decisions: doing two push-ups a day, waking up five minutes early, or holding a single short phone call.
He calls them atomic habits.
In this ground-breaking book, Clears reveals exactly how these minuscule changes can grow into such life-altering outcomes. He uncovers a handful of simple life hacks (the forgotten art of Habit Stacking, the unexpected power of the Two Minute Rule, or the trick to entering the Goldilocks Zone), and delves into cutting-edge psychology and neuroscience to explain why they matter. Along the way, he tells inspiring stories of Olympic gold medalists, leading CEOs, and distinguished scientists who have used the science of tiny habits to stay productive, motivated, and happy.
These small changes will have a revolutionary effect on your career, your relationships, and your life.
James Clear's work has appeared in the New York Times, Time, and Entrepreneur, and on CBS This Morning, and is taught in colleges around the world. His website, jamesclear.com, receives millions of visitors each month, and hundreds of thousands subscribe to his email newsletter. He is the creator of The Habits Academy, the premier training platform for organizations and individuals that are interested in building better habits in life and work.
More information about
Clear, James
and
Atomic Habits. An Easy and Proven Way to Build Good Habits and Break Bad Ones
is available in:
Delibris.org is an initiative supported by the Midwest Theological Forum (MTF) that springs from experiences of people that share a passion for reading and that take interest in known, from a catholic perspective, the content of books that have caught their attention.
Back
Others books by Clear, James
There are
2 ebooks
by this Author
Clear, James - Atomic Habits. An Easy and Proven Way to Build Good Habits and Break Bad Ones - Language: English, Self-Help - Format: ePub
Transform your life with tiny changes in behaviour, starting now. People think that when you want to change your life, you need to think big. But world-renowned habits expert James Clear has discovered another way. He knows that (More)
Clear, James - Piccole abitudini per grandi cambiamenti - Language: Italian, Self-Help - Format: ePub
Mental coach, formatori, guru motivazionali: tanti dicono che nella vita è fondamentale porsi obiettivi ambiziosi, decidere dove si vuole arrivare e fare di tutto per arrivarci. Ma è davvero questa la chiave del successo? Perché (More)