Global Library
There are 1,638 ebooks with this criteria in the database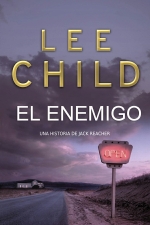 ePub
Language: Spanish | Category: Novel (Detective) | Audio Book: Not Available
Año nuevo, 1990. El muro de Berlín acaba de caer, y con él, termina la guerra fría. El mundo se enfrenta a una nueva era político-militar. Ese mismo día, Jack Reacher, un oficial de la polícia militar destinado en Carolina del Norte, recibe una llamada que le comunica la muerte de uno de los soldados de la base en un motel de la zona. Aparentemente, se trata de una muerte natural: sin embargo, cuando se descubre que la víctima era un general influyente, Reacher, ayudado por una joven afroamericana, que también es soldado, iniciará una investigación.
Para obtener más información sobre
Child, Lee
y
El enemigo
se puede consultar:
Delibris.org is an initiative supported by the Midwest Theological Forum (MTF) that springs from experiences of people that share a passion for reading and that take interest in known, from a catholic perspective, the content of books that have caught their attention.
Back
Others books by Child, Lee
There are
5 ebooks
by this Author
Child, Lee - Prova a fermarmi (Jack Reacher, 20) - Language: Italian, Novel - Format: ePub
Mother's Rest. Un piccolo paese in mezzo a un immenso campo di grano, popolato da individui scontrosi e lunatici. Jack Reacher si chiede il perché di quel nome particolare, ma nessuno sembra intenzionato a dare spiegazioni. Lungo (More)
Child, Lee - El camino difícil (Jack Reacher 10) - Language: Spanish, Novel - Format: ePub
Nueva York. Noche. Un Mercedes llama la atención de Jack Reacher, el mejor cazador de hombres del mundo. Nunca se le ha escapado ninguna presa. Pero, por primera vez, anda perdido. Un sospechoso empresario le ha contratado para (More)
Child, Lee - El enemigo - Language: Spanish, Novel - Format: ePub
Año nuevo, 1990. El muro de Berlín acaba de caer, y con él, termina la guerra fría. El mundo se enfrenta a una nueva era político-militar. Ese mismo día, Jack Reacher, un oficial de la polícia militar destinado en Carolina del (More)
Child, Lee - Personal - Language: Spanish, Novel - Format: ePub
Algo grande se cuece cuando la CIA, el Departamento de Estado y las Fuerzas Especiales echan el resto por dar con el escurridizo Jack Reacher y convencerle de que neutralice a un misterioso francotirador de élite, responsable de (More)
Child, Lee - I docici segni - Language: Italian, Novel - Format: ePub
New York, due di notte. Un vagone della metropolitana corre semivuoto sotto la città. A bordo, sei figure stanche, una delle quali è Jack Reacher, l'eroe solitario che ha scelto una vita da vagabondo per le strade d'America. (More)